A data story on women's livelihoods and work
Published: January, 2022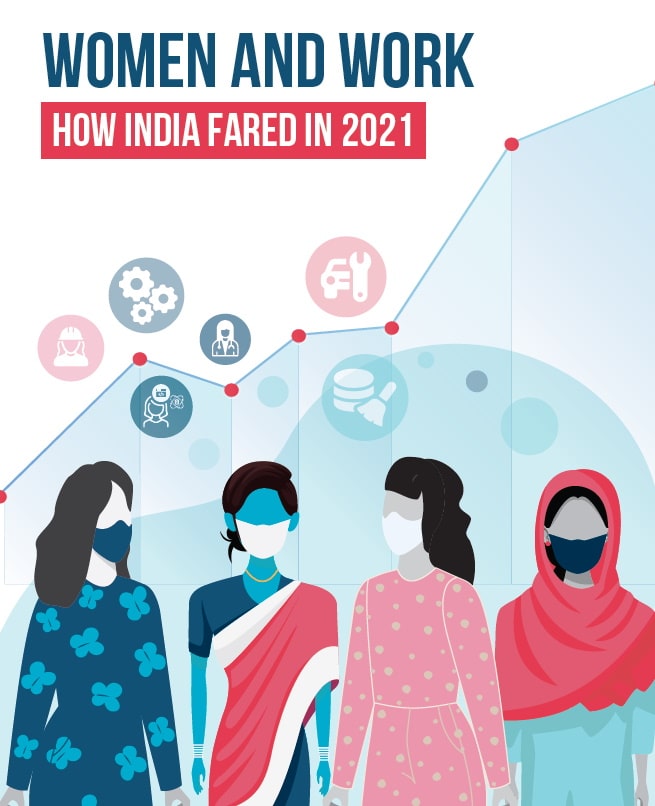 The year 2021 continued to be a year of response, recovery and resilience. Even as recovery seemed to be on the horizon, a brutal second wave of COVID-19 brought about a new set of challenges. In line with observations from the first year of the pandemic, women and girls were impacted disproportionately — with structural barriers to equality adding an additional layer of disadvantage to the health crisis. Even as this report is compiled, the Omicron variant threatens to destabilise recovery further, with leaders from across geographies and sectors working towards mitigating its impact.
We need a recovery that is gender-responsive and equitable. In order to achieve this, we need social safety nets that are better designed and inclusive; reduce the gendered divide in access to technology and design hybrid working solutions; reduce and redistribute care work and invest in strengthening the care economy; and, ensure effective and scalable policies and solutions by collecting robust, sex-disaggregated data.
This report stitches together and maps the efforts that are underway to bring women back to work and prepare women and girls for the future of work. The report highlights different developments, whether policy-focused or programmatic, that have defined work for women in India in 2021.
The report also provides a forward-looking perspective on the future of work for a self-reliant India, with a focus on new age skills, entrepreneurship, and the rise of non-traditional livelihoods. Woven through this report are insights around the social indicators that impact women's participation in the workforce, including issues such as access, health and well-being, and security.
Access the 2021 report here
For the 2020 version of the same report, click here
—
The report was compiled by the TQH team with valuable inputs from IWWAGE