Published: May, 2022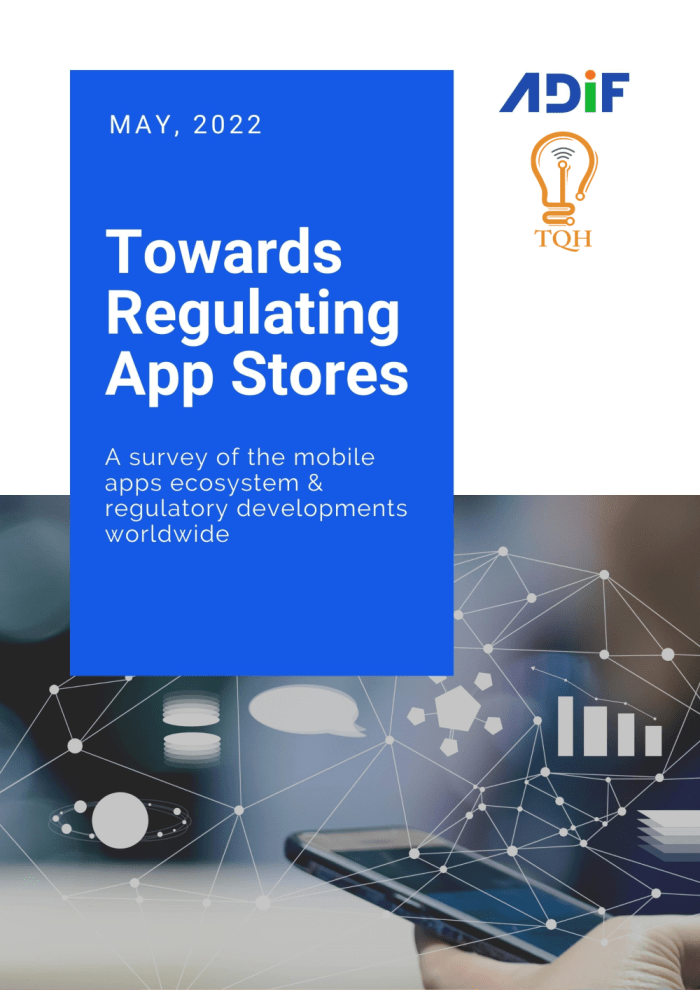 The App Store ecosystem
Mobile devices such as smartphones and tablets are an indispensable part of modern life. They enable internet connectivity and provide a range of products and services such as instant communication, access to music, news and gaming through mobile software applications or "Apps". Much like computers, all mobile devices run using an operating system. iOS and Android (run by Apple and Google respectively) are the major mobile operating systems, having a combined worldwide market share of 99.28% (as of April 2022). In India, Android dominates the market with its market share being 95.1%, while iOS has 3.93%.
Users usually download apps from digital marketplaces known as app stores. All smartphones come with at least one native app store pre-installed on the phone – on iOS, it is the App Store and on Android, it is Google Play . By virtue of the large market shares of their underlying OS, App Store and Google Play have today become the dominant stores through which developers distribute apps to mobile users. Though some other app stores such as the Amazon App Store, Indus App Bazaar, Microsoft Store, F-Droid etc. exist, and one can sometimes also download apps via websites, the volume of downloads through these channels pales in comparison with the downloads through the App Store and Google Play. As a result, these stores are often termed "gatekeepers" of the app ecosystem.
App stores provide a wide variety of services to both users and developers. They do this by helping developers connect with users, and by subjecting all apps to checks before they can be published in the stores. These checks help reduce inappropriate and illegal content. As a result, users can easily find and securely purchase, download and update their apps. Developers gain too – app stores give them access to a large market, support app development, and provide various types of feedback through reviews, etc.
App stores charge a fee to cover the costs of providing these services and for facilitating transactions between developers and users. While many developers only pay a nominal listing fee to publish their app, the developers who sell digital goods and services are required to pay a set rate of commission on the purchase of paid apps, subscription services and purchases made within the app – known as "in-app purchases" ("IAPs"). The commissions charged vary depending on the type of app and sometimes, according to the jurisdiction where it operates. The Apple App Store charges either 15 or 30% commission on purchase of paid apps and IAPs, depending on the type of app. Similarly, Google Play charges either 15 or 30%, but this was not strictly enforced until recently. Other stores like the Microsoft Store charge 12% for games and 15% for other apps and the Epic Games Store charges 12%.
App Store policies and concerns around abuse of dominance
Given the extensive market share and user base of Google and Apple globally, their policies affect a wide swathe of users and developers, and changes to their policies can alter market dynamics for many participants. One policy that has received a lot of attention (and criticism) in the recent past has been Google's decision to enforce a high commission on IAPs and paid apps by mandating the use of its proprietary payments system. Under this policy, developers will be effectively barred from using any other system to accept payments from customers. Several Indian developers have objected to this move and criticized the quantum of commissions as well as the lack of choice in picking a payments system, terming the proposed policy change unreasonable. Google's new rules – which are already in force in some parts of the world and scheduled to come into force in India in late 2022 – could significantly dent developers' profit margins, affecting both business viability and innovation.
While commissions are important for the operation of the stores themselves, it is difficult to determine the fair rates of commission. In the absence of competition, what is fair is not a straightforward question to answer, especially given the information asymmetry that plagues the relationship between developers and app store operators.
The problem is further compounded by the bundling of services – both the dominant app stores offer a multitude of services beyond any standard payment gateway available in the market. Because services are bundled, it becomes difficult to determine the fair fee for each service. The size and ubiquity of the dominant app stores, which benefit immensely from being pre-installed on their own operating systems, makes it almost impossible to ascertain a reasonable quantum or threshold for commissions.
Antitrust action around the world
Taking cognizance of these issues, several regulators around the world have expressed concerns with the policies of the dominant app stores. Apple is currently under investigation from regulators in the USA, Europe, Japan, Australia and India, while Google is also facing proceedings in the USA, Europe and India, among other countries. In India, cases were filed against Google and Apple with the Competition Commission of India (CCI) which is currently investigating them for abuse of market power in the country. In December 2021, the Netherlands competition regulator (ACM) found Apple's App Store in violation of its competition laws. It has since levied a series of (weekly) penalties against Apple for what it asserts is continued non-compliance with its order. By the 28th of March 2022 these fines had totaled €50 million with the regulator threatening another round of fines "with possible higher penalties". On the 28th of March 2022, France also joined the fray with the Paris Commercial Court levying a fine of €2 million on Google and asking it to rewrite clauses in its developer agreements that were deemed unbalanced within three months. The court said that Google could not provide it with any real justification for the commission charged.
But even as competition regulators are assessing the potential abuse of market power, several commentators have noted the limitations of this approach and called upon policymakers to rethink regulation of digital markets like apps stores.
Limitations of antitrust regulation
Competition cases such as the ones currently under investigation require in-depth technical research that usually results in lengthy proceedings leading to delayed regulatory action. This can lead to aggrieved parties facing irrevocable harm in fast-moving digital markets where speed of innovation and quick uptake of products is critical for success. A case in point is France where the competition authority had started legal proceedings in 2018 to examine the contract clauses introduced by Google in 2015 and 2016. Some of these disputed contract clauses had already been changed while the proceedings were underway.
Therefore, to minimize damage and ensure competition in digital markets, some governments have considered the enactment of ex ante regulation that can guide the behaviour of market actors by prescribing practices such as unbundling, to help prevent negative outcomes before they occur. In August 2021, South Korea passed a law barring app stores from forcing developers to use the app stores' proprietary billing system, becoming the first major legislation worldwide to impact app store policies. A bill introduced in the US Senate also seeks to impose similar curbs. Another legislation – The Digital Markets Act – is currently under consideration in the EU.
Our Study
It is in the above context that The Quantum Hub worked with the Alliance of Digital India Foundation (ADIF) to assess the competitive landscape in the app store market in India, highlight pressing concerns of developers, and determine the need, if any, for government intervention.