Tackling the root causes of deprivation, investing in education, improving nutrition and food security, and accelerating access to clean energy can help transform the lives of millions.
Authors: Mayank Mishra and Swathi Rao
Published: July 11, 2023 in Outlook
As the world commemorates World Population Day today, it is important to look at the most pressing issue faced by millions in India: poverty. While poverty is often used to describe monetary poverty, this definition is often too simplistic. Therefore, the United Nations recommends a different measure of poverty – the multidimensional poverty index (MPI), which is a measure of deprivation that encompasses a web of interconnected disadvantages, including limited access to basic infrastructure, education, healthcare, housing, and more. In fact, the Sustainable Development Goals (SDGs) aim to address precisely this complex nature of poverty.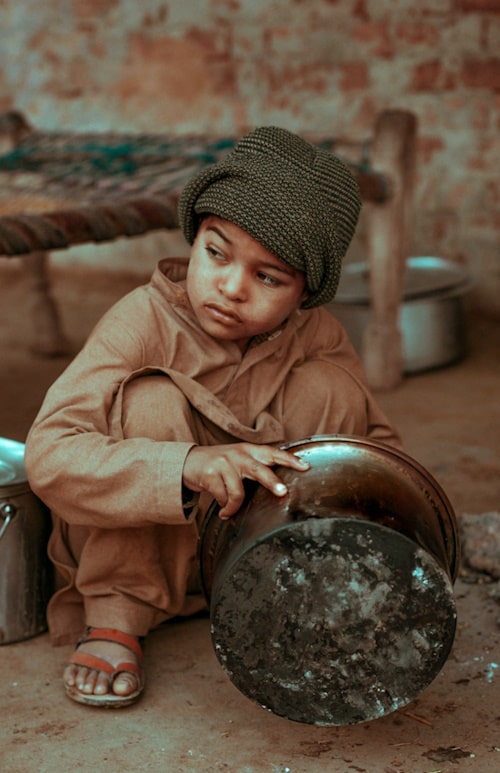 In simple terms, MPI measures deprivation of three important aspects of a person's life – their health, education, and living standards – each with specific indicators (10 in total) and having the same weightage. If a person is multidimensionally poor, it means that s/he is deprived in at least three indicators.
Globally, over a billion people are reported to be multidimensionally poor. In the context of India, a country with a diverse population and varying socio-economic landscapes, measuring and addressing multidimensional poverty takes on even greater significance. It necessitates an understanding of the nuanced challenges faced by individuals and communities in different regions.
The story of India's poverty alleviation in the decade between 2005-06 and 2015-16 is nothing short of extraordinary. Over the last 15 years, the number of multidimensionally poor people in India has fallen by more than 415 million. According to the SDG Tracker developed by the India Policy Insights (IPI) initiative at Harvard University, a significant majority of districts (52 per cent) have achieved their SDG targets, demonstrating commendable efforts in alleviating multidimensional poverty. Encouragingly, 41 per cent of the districts are on track to meet these targets by 2030, indicating positive momentum towards sustainable development. However, despite notable progress, there are still areas that demand urgent attention.
Data on MPI from the UN reveals that nutrition, years of schooling, and cooking fuel, in particular, are areas of high deprivation in India, compared to other indicators, implying that a considerable number of people are undernourished, have not completed six years of schooling, and still use dung, agricultural crops, shrubs, wood, charcoal or coal as primary sources of cooking fuel.
While comprising only 6 per cent of the total number of districts in India, there are still 43 districts in the north, eastern, and north-eastern parts of India that are lagging in the pursuit of poverty alleviation. Although a relatively small proportion, when looked at in terms of population, this represents a substantial number of communities grappling with multidimensional poverty, and calls for immediate attention and investigation.
MPI considers undernourishment, based on age-specific BMI, weight-for-age, and stunting (for children 5 years and under), in any member of a household, as nutritional deprivation. According to the IPI Districts Tracker, the aforementioned 43 districts have some of the country's highest prevalence of stunting and underweight women. Additionally, over 62 per cent districts in the country are not on track to meeting the SDG target for nutrition, serving as a grim reminder of the burden of undernutrition and highlighting the urgent need to address the nutritional crisis that continues to plague India.
According to the latest National Family Health Survey (NFHS-5) data, the number of years of schooling among urban and rural areas was 7.5 years versus 4.0 years among women, and 8.8 years versus 6.5 years among men. While this is a remarkable improvement from the previous NFHS round (2015-2016), it is also important to note that men consistently have a higher average number of years of schooling compared to women. Further, 27 of the 43 districts falling behind have female attendance rates below the national average (71.76 per cent). This disparity not only perpetuates inequality but also hampers the nation's progress in achieving sustainable development.
In terms of access to clean cooking fuel, although India has made significant progress through schemes like the Pradhan Mantri Ujjwala Yojana (PMUY), nearly 68 per cent districts in the country are still unlikely to meet the SDG target for clean cooking fuel. At the current rate of progress, most districts in central, northern, and north eastern India are unlikely to have 100 per cent access to clean fuel by 2030. This means that a significant portion of the population may continue to rely on primitive cooking methods, exposing them to hazardous fumes and compromising their health.
Amidst these concerning statistics, it is also worth noting that Indian districts have shown exceptional performance on living standard indicators like sanitation and electricity; while 43 per cent districts have already met the SDG target for electricity, 78 per cent districts are on-target to meet the SDG target for sanitation and an additional 47 per cent for electricity.
The year 2023 is an important year for India. It not only signifies the halfway point to the 2030 Sustainable Development Agenda but also marks a significant demographic shift, with India surpassing China as the world's most populous country. In light of these developments, it becomes imperative for us to take stock of our development goals and course-correct. India's journey towards inclusive and sustainable development hinges on our ability to address the multidimensional nature of poverty. By tackling the root causes of deprivation, investing in education, improving nutrition and food security, and accelerating access to clean energy, we can transform the lives of millions.
Swathi Rao and Mayank Mishra are with The Quantum Hub (TQH).