An Implementation Blue Book
Authors: Aishwarya Viswanathan, Deepro Guha and Bhavani Pasumarthi
Research Lead: Rohit Kumar
Published: 2022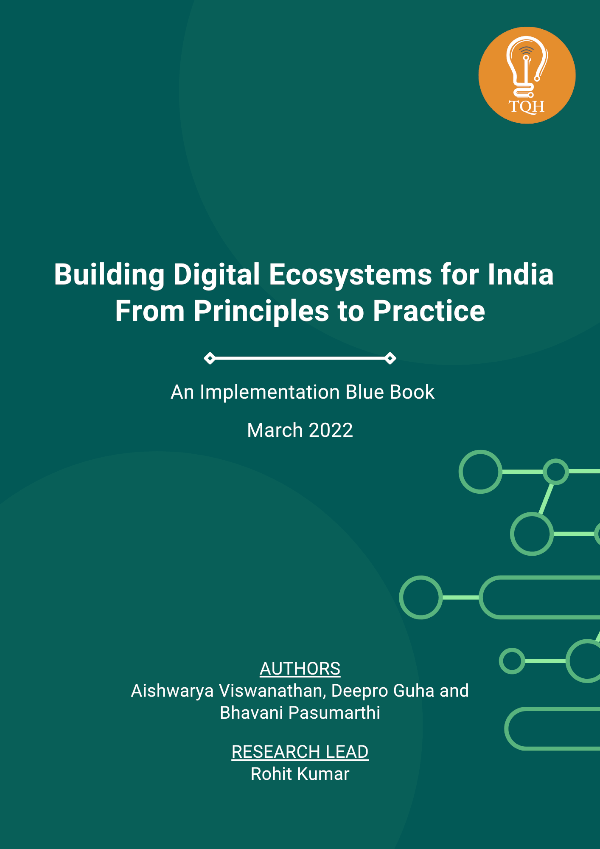 Over the last decade, India has pioneered a new approach to building GovTech – one which prioritises the creation of technology 'building blocks' that multiple innovators can leverage to build citizen-centric solutions: in other words, an approach that focuses on creating open ecosystems instead of closed systems. This approach recommends the use of Free and Open Source Software (FOSS), open standards, and open APIs and encourages interoperability. By doing so, it allows different systems to talk to each other seamlessly, empowers stakeholders, distributes the ability to solve complex societal problems and unleashes innovation to enhance service delivery. Starting with Aadhaar, India has built a menu of such digital solutions that today includes eKYC, DigiLocker, a Unified Payments Interface (UPI) and many other sector-specific solutions.
Three interrelated concepts: NODEs, Public Digital Platforms and IndEA
The Ministry of Electronics and Information Technology (MeitY), on behalf of the Government of India (GoI), has been a key advocate and custodian of this approach, putting forth three interrelated concepts – India Digital Ecosystem Architecture (IndEA) Framework, Public Digital Platforms and National Open Digital Ecosystems (NODEs).
The India Digital Ecosystem Architecture (IndEA) Framework provides a set of architectural principles, reference models and standards to support the seamless flow of data across government departments. Leveraging these principles, India has made tremendous strides in building critical Public Digital Platforms such as Aadhaar and UPI which have also facilitated the creation of National Open Digital Ecosystems (NODEs).
All three concepts adopt architecture thinking and interoperability – The IndEA Framework at a 'whole of government' level, and Public Digital Platforms & National Open Digital Ecosystems at the sectoral or segment-specific level. They build on common tech elements and strive for one common outcome – namely adopting a de-siloed approach to GovTech, to unlock greater economic and societal value for the citizen.
The strategy for NODEs consultation white paper, released in early 2020, and the latest IndEA 2.0 draft framework have both generated wide public interest and engagement. It is now timely to take this approach forward by codifying the details into an implementation blue book so that the adoption of the IndEA & NODE approaches can be mainstreamed across various sectors and simplified for all government departments. This is what our research aims to do.

Detailed documents
Implementation Blue Book
Case Study – Ayushman Bharat Digital Mission