Published: December, 2022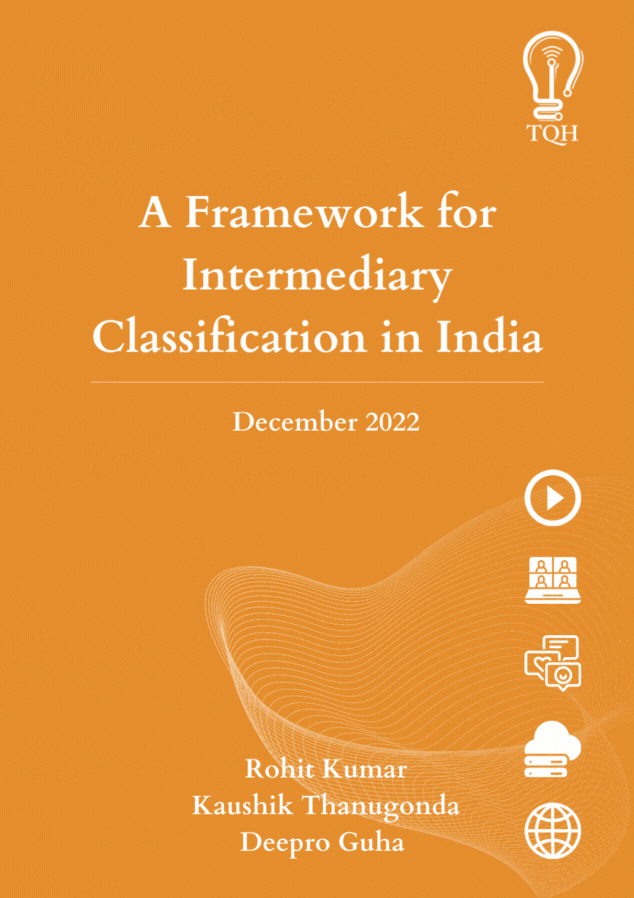 Intermediaries in India are defined under section 2(w) of the Information Technology Act 2000 ("IT Act"). The Information Technology (Intermediary Guidelines and Digital Media Ethics Code) Rules, 2021 ("IT Rules, 2021"), notified in February 2021, lay down the framework for their regulation. These rules introduce a new classification that categorizes intermediaries into different kinds and prescribes obligations for each category.
Although the classification is useful in providing differentiated obligations, the category definitions are still quite broad and not nuanced enough. In the digital world, there are various kinds of intermediaries, providing different types of services, and not all intermediaries inflict public harm or impact public discourse. Intermediaries providing enterprise solutions, for instance, are integral to the functioning of most organizations, but don't pose the same risks as a platform that allows for wider dissemination of information. Therefore, bucketing all such intermediaries into one unified category and imposing similar legal obligations on them may not be appropriate.
As the Government of India prepares to replace the IT Act 2000 with a new Digital India Act, it may be worth taking a fresh look at intermediary classification to recognise the complexity of the online space today. The new approach can take a proportionate and risk-based lens to regulation by considering a range of factors such as platform features, number and types of users, as well as the nature of risks involved to propose an alternative classification framework. If such a framework were to create space for participation by the industry, it may also allow service providers to come up with solutions that work to address platform-specific dynamics, without running the risk of overregulation.
Given the above context, this paper attempts to propose a new way of classifying intermediaries to help improve accountability and online safety, while also reducing legal obligations for intermediaries. It is hoped that the proposed framework can help achieve the government's policy goal of creating a safer internet ecosystem while also allowing businesses to thrive.
Access the full paper here
Flip through a short presentation here