A data story on women's livelihoods and work in the year of COVID-19
Published: January, 2021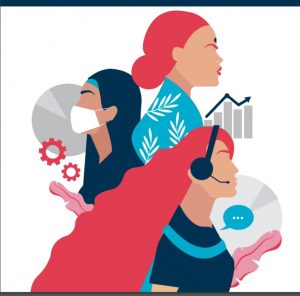 Across the globe, 2020 unleashed a slew of unprecedented challenges and has been an overwhelming period for everyone, socially and economically. While the COVID-19 pandemic and the subsequent lockdown has impacted people from all walks of life, it has become increasingly evident that this impact has been harsher for women and girls. Policymakers, civil society organisations, economists, donors in the social sector, grassroots leaders are all trying to gauge the extent to which the pandemic has impacted women in a bid to chart out a gender responsive recovery plan.
Against this backdrop, we look at the key trends and policy developments that came to shape and define the life of women across India in 2020. In this report, we look at women's changing role in the economy, their resilience in the face of the crisis and the opportunities that lie ahead to gain back momentum on the agenda of women's economic empowerment that faced a setback this year. This report covers economic and social indicators (like female labour force participation, barriers to work and livelihoods, financial inclusion, digital access, skilling, education and violence against women) that played a central role in determining women's role in the Indian economy.
—
The report was compiled by the TQH team – Sneha Narayanan, Surbhi Singh, and Srikanth Ravishanker – with valuable inputs from Kanika Jha Kingra and Soumya Kapoor Mehta from IWWAGE, and designed by Damini Gupta.